December 1, 2022
Ottimo required the latest technology to drive productivity and expand. Sheppex Asset Finance understands the graphic arts sector and tailored a proposal that secured competitive asset finance with a manageable monthly repayment secured against the asset only.
---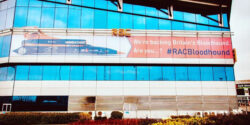 When Ottimo says 'large format' it really does mean LARGE. Its printing projects include branding whole buildings, such as the RAC Regional HQ visible from the M4 and M5 motorways.
Ottimo was introduced to Sheppex seven years ago via recommendation from equipment supplier CMYUK Digital Ltd.
Multiple finance agreements tailored by Sheppex have followed, funding £1.5 million of new equipment that has expanded sales routes and driven growth for the business.
Says Ottimo Digital co-founder and Director Nick Lindwall: "Sheppex make the process of obtaining finance for business easy. They get us good rates, know what they are doing and are nice people to deal with.
We had dealt with other finance providers before, but they did not have the experience of our industry that Sheppex has, nor did other providers have a detailed understanding of our equipment, and resale values at end of loan term, which slowed the whole process down.
The team from Sheppex do more than get you a loan. They understand our sector and the technology we use and the reasons for investment.
Sheppex understands the peaks and troughs nature of our business, and they move quickly to find lenders with appetite and enthusiasm to fund our new machines."
---
Financing a new
Kongsberg C Series
Ottimo's latest asset finance facility provided by Sheppex secured a new state of the art Kongsberg C64 Cutter and a Mimaki UCJV 300-160 digital printer to replace existing machines.
Improvements in speed and productivity, more sophisticated and user-friendlier software – together with reduced operating costs,
labour savings and boosted output – contributed to a highly cost-effective proposal for the new machines.
---
Continues Nick Lindwall: "We have done the math!
When we need finance, we go straight to Sheppex. We trust Sheppex to get the best rates and terms on the market.
They have access to a large panel of lenders and most importantly, they ensure we secure the best conditions for our loans and find lenders with the appetite for our type of business."
Reducing the risk
"It is also about mitigating personal risk if the unexpected happens; who would have thought Covid would have such an effect?
During covid we took the downtime to restructure the business which we could not have done without the expertise of Sheppex.
We had to shut down for five weeks with no work and benefitted from restructuring our finance agreements to reduce costs. At the same time, we needed to invest in materials to meet the huge demand for covid safety signage.
Would I recommend Sheppex?
I would definitely recommend Sheppex! They are helpful, knowledgeable and have access to all the lenders; and they will find the one that fits best with you, a lender with an appetite to work with you.
Matthew Gilbert and Luke Mulligan are specialists in industry. They know how machines depreciate and understand the real value they retain at the end of the loan term.
What I most appreciate and remember, is the help we received from Sheppex on the finance on one of our first machines.
The first time you need an asset loan for the business is the most challenging, but Sheppex can support new starts through to long established businesses and will fight your corner to limit your personal risk.
…I cannot say fairer than that!"
---
More about Ottimo
A wide format digital printing company in Newport, South Wales, Ottimo Digital was founded to provide the highest quality in large format printing…'with an amazing level of customer service.'
Starting out in a print room less than 20 square metres in size and with just one 1600 mm wide solvent printer, the business has grown quickly with 20 staff and a machine portfolio including UV flatbed printer, a 5-metre-wide UV LED printer, and most recently a 3.2m
Dye-sublimation printer for soft signage, a Kongsberg C60 Cutter, and Mimaki UCJV-160 Digital Printer.
"These machines allow us to achieve some of the most impressive, innovative large-format prints the industry has seen. With an ever-expanding range of media, our technologies allow us to print on a wide range of substrates such as self-adhesive vinyls, fabrics, PVC, acrylic, wood, wallpaper and many more." Nick Lindwall, Director
OTTIMO = 'best' or 'excellent' in Italian.
Read their full story here: www.ottimodigital.co.uk